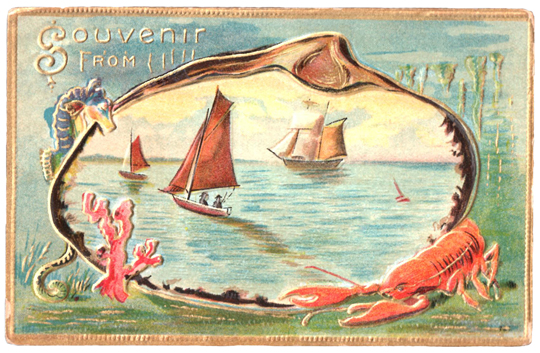 UPDATED. We have now moved this to 2021 due to the current crisis which means we have plenty of time to create amazing responses to the theme.
In 2021 Clwyd Denbigh federation have the exciting challenge of running the National Federation of Women's Institutes stand at the Royal Welsh show. The theme is Our Oceans Our Future and as part of the exhibit we are asking all members of the federation to contribute their thoughts via the medium of a postcard. Or at least a postcard sized artwork.
The rules are that each member is to submit one piece. It must be 6″x4″. Have an image on one side and a written piece on the other. It can be made of any material. It can be commercially bought or hand made.
The postcards will be displayed on stand at the show and the public given the opportunity to read them and then make their own. If you are not a federation member but want to make one in advance of the show please bring it along on one of the days to add to the exhibition.
Exhibition opportunities will be found for the postcard project after the Royal Welsh Show.
Be inventive with your postcard, it can be printed on a computer, hand printed, drawn, painted, mixed media, textiles or more. And it does not have to be paper or fabric, it could be on wood, metal or whatever takes your fancy.
But what is it??
Our Oceans Our Future
It is about your relationship with the sea. How does the sea make you feel, why do you love it. What would you miss the most about it if it was gone.
Is it the fresh air, is it the calming sounds, is it the sand between your toes. Is there a special memory of the seaside you want to share.
Why do we need to preserve it/improve it for future generations.
Tell a story
Make a pledge
Make a difference
Postcards need to be returned to WI House, 67 Vale Street, Denbigh, by the start of April 2021. Why not make it a craft session with your WI group.
Any further questions, just drop me an email.
Here are some images for inspiration